About Us
The Art (The Fun Stuff!)
Andrew Ruffhead works from his studio/gallery in Burnham Market producing pen and ink drawings, paintings,cyanotype photography, prints, and artworks made from driftwood and reclaimed boats, all with a coastal theme and inspired by the stunning North Norfolk beaches and big blue skies.
North Norfolk is a place for all seasons, ( it particularly comes into its own in the summer of course !), but its charms are still undeniable, even when you have the beach all to yourself on a cold, breezy winter`s day.
Andrew is a true beach comber , sifting through the flotsam and jetsam to winkle out seaside treasures such as shells, rope and bits of abandoned boat, that can be re-fashioned into fun pieces of coastal art. And being passionate about cooking, living near the coast is real foodie-heaven; with Brancaster mussels, Thornham oysters, Cromer crab and so much more in the fishy stakes readily available-not only to eat, but also inspiring him to draw his brightly coloured images.

All the art work for sale at Fish and Ships is original and produced by Andrew Ruffhead. Most pieces are `one-offs`, so are subject to availablity, but you can always commission a drawing or piece of coastal art made from reclaimed fishing boats..
Similiarly if you see a piece of work that is already sold-Andrew can make something for you that is almost identical-so just ask!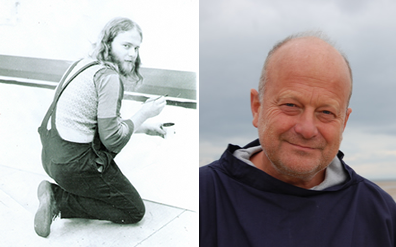 The Man Behind The Art (The Sensible Stuff!)
Andrew Ruffhead BA (Hons) Dip CSAD, MA, FCSD
Andrew Ruffhead studied Painting and Printmaking at Brighton Polytechnic, and then Printed Textile Design at the Central School of Art and Design.
He has worked as a textile designer producing fashion, furnishing fabrics and wallpapers for companies such as Osborne and Little, Designers Guild and Calvin Klein.
Andrew has taught at Chelsea School of Art, Worthing, Loughborough College of Art and Design, and was Head of the Printed Textile Department at the University of East London for fifteen years.
He has also worked for the National Institute for Design in Ahmedabad (India) NIFT ( National Institute of Fashion Technology) based in New Delhi, and The National Institute for Design ( NID) in Ahmedabad.
Andrew is a Fellow of the Chartered Society of Designers, and was chair of the Fashion Textile Discipline Group. He continues to exhibit his work in many galleries in the UK.
Andrew lives in the pretty village of Burnham Market , a pebbles throw from the stunning beaches of the North Norfolk coast, and is now concentrating on his own printmaking, painting and drawing, also producing prints,quirky coastal maps that can be personalised with your favourite places, and artworks made from recycled wood, coastal driftwood and pieces of marsh-found boats.